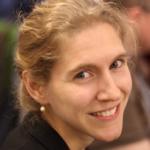 At Evolving Web, I make sure that every Drupal build has a great content and user experience strategy behind it. I also provide in-depth Drupal training and thought leadership to the Drupal community. I'm passionate about best practices and making Drupal easier to use.

I've worked on Drupal projects for Princeton University Press, the Linux Foundation, Travelocity, McGill University, A&E Television, and the Government of Canada. One of the best parts of my job is travelling around teaching teams how to use Drupal. I've worked with teams across North America, including at the University of Toronto, Georgia Tech, the Art Gallery of Ontario, the Government of Canada, and numerous web agencies. I also get to teach content strategy and UX workshops.

What else do I do? I'm a community-elected member of the Drupal Association Board. I spend a lot of time hanging out at conferences, learning, and teaching what I've learned. I help run our monthly Evolve UX and Drupal meetups.

I love talking about content strategy, user experience, design patterns, accessibility, Drupal, and open source.
Connect & Follow