With so many image sizes the upload process can take minutes to finish, or never does! If you Google it there are probably 20 "best" plugins to fix this. I'll explain what goes on in WordPress from upload to viewing the image on a post and cover the ways we can speed up the process.
The Pitch
I've taken over support for sites with as many as 45 image sizes, do you even know how many your largest sites have? For the vast majority of sites out there this is far too many, but even if you have 20 or 10 WordPress may be getting bogged down during a bulk upload, or worse your site may go down temporarily.
The Focus
I'll show you the steps I take to identify how many images you have, what is creating them and how to begin to reduce that number or simply offload the processing. You will come away from the presentation with a broader understanding of WordPress as well as external solutions available to us.
Questions Answered
I only use one size on our site, why does WordPress generate so many unused sizes?

How much do more advanced ways of processing images cost?

My developer tells me that… (you fill in the blank), is that right?
Also presented at...
This talk is geared toward WordCamps, however I could easily adapt it to cover both CMSs media/image management issues.
Presentation Materials
Classifiers
Track
Audience(s)
Experience Level
Tags

DevOps & Misc Development

Developers (Back-end php focused)

DevOps Engineers, Tech Leads, Lead Developers

Intermediate
Scheduling Information
,
A11y, Performance
About the Presenter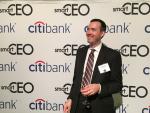 I am a co-founder of Ndevr, a distributed WordPress development company. I started building websites as soon as I got an internet connection back in 1995, and hasn't stopped since. I built successful sites for clients as big as Time Inc., Johnson & Johnson and Fox News; and as small as, well you wouldn't even know who they are anyways. I moved West to Colorado in 2015, where I thoroughly enjoy camping and snowboarding with my wife and two boys.
I have over 20 years of experience developing high scale / traffic products as both an employee and consultant. I've straddled the technical / business roles for much of my career and understand the pain each side feels as both technology and audience needs rapidly change. 
Session Recording